Sisyphean Pinball GMTK Version
A downloadable game for Windows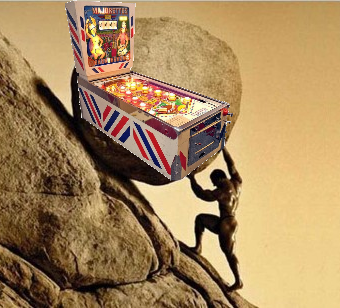 This game has been expanded and enhanced, please try the newer version of the game at https://skillforge-games.itch.io/sisphean-pinball

Pinball without losing the balls!

Instead of losing the ball you fall down into another pinball game. 8 boards falling into each other in a loop. Hit all the lights to break the cycle and win!

Controls:

Use 'left' or 'a' to control the left flipper and use 'right' or 'd' to control the right flipper. Press escape to quit.
Tips:

Don't worry if you miss a light before falling through, you will cycle back to the beginning.
About:

Developed by two brothers (Andrew and Jacob), for our first GameJam, the 2018 GMTK Jam.
We wanted to take away the loss mechanic from a game and see what could happen.
So, what would happen when you couldn't lose in pinball? Well how about your ball falls into a new board and you just keep going! We needed to add a new ending mechanic so we added lights that need to be activated on each board. When all the lights are lit the next board you drop into will be the victory board.

Attribution:

Developed with Unity 2018

All music and sounds are from FreeSound.org and are listed below.

https://freesound.org/people/summonhue/sounds/21685/

https://freesound.org/people/hihirex/sounds/66876/
https://freesound.org/people/Brokenphono/sounds/344152/
https://freesound.org/people/VSokorelos/sounds/346183/
https://freesound.org/people/jameswrowles/sounds/380639/

All other assets and scripts were made by us for this project.
"The struggle itself towards the heights is enough to fill a man's heart. One must imagine Sisyphus happy." -Albert Camus


Download
Click download now to get access to the following files:
Sisyphean Pinball.rar
15 MB